Web Development from SciencEngines
SciencEngines has extensive experience in web design and development. We can create Web pages, components for pages (artwork, buttons, maps, animations, etc.) or entire interactive Web systems. We can build an effective strategic presence on social networking sites for your organization.
We are experts in:
Web technologies - HTML, CSS, ASP, Java, etc.
Mobile Web - iPhone, Android, Blackberry
Web database, Web forms
eCommerce - PayPal, SharePoint
Graphics - Adobe Flash and Photoshop
Mapping - Google Maps, Bing Maps, and ESRI ArcServer
Social Networking - Twitter, Facebook, LinkedIn, YouTube, etc.
Sample Sites and Design Concepts
---
Below are some sample works and design concepts:
Icons and Logos
---
Allow SciencEngines to help brand your company with custom logo and brand designs. We provide services to help you develop logos that deliver your company's image and impress.
Logos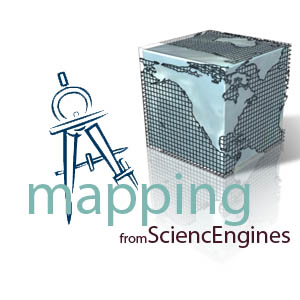 Banners

Interactive Content
---
SciencEngines can provide your company with a range of interactive content on your site to engage your clients and deliver results.
Web Mapping
Panoramic Viewer