Biography of David Nawn
---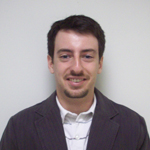 Director of Systems
David Nawn received his Bachelor's Degree in Information Science from the University of Pittsburgh in 2009. He completed his Master's Degree in Information Science at the University of Pittsburgh with a focus in Geoinformatics in 2010. While in graduate school, he worked as a graduate student researcher at the Center for National Preparedness. His graduate career included several research publications, including one international magazine article, as well as several conference proceeding publications.
David spent his first internship working at Gravic, Inc. where he performed quality assurance testing on software programs and developed utilities to be integrated with ongoing projects.
David then went on to an internship at U.S. Steel before enrolling in the Masters program at the University of Pittsburgh's School of Information Science. While working for U.S. Steel, he designed internal applications and provided support and maintenance for financial applications.
He also has experience in IT Management maintaining business critical servers, automating manual processes to increase efficiency, and setup and monitor of site to site VPN.